Voltage Drop Calculator
Here you will find links to a wide range of topics used to educate and inform. Are you looking for ABYC standards? You'll find it here. Want to know the simplest way to order on this site? We have a guide for that. Interested in learning more about the wire and cable color codes? You came to the right place.
We added this information here in an effort to provide the most solutions in the easiest way possible. Simply click the title or image to be taken to a corresponding page that will further investigate a topic. As always, if you have any questions or comments feel free to reach out to us and we will make sure you walk away with the answers you were looking for.
---
Quick Search
Click the title of the section you would like to be taken to.
---
Sometimes, finding the information that you are looking for can be difficult. It is with this in mind that we created a technical database. Simply click on the product or topic that you are interested in, and you will have the ability to quickly and easily search for a specific item based on one of many variables. In this way, you can find what you need, faster than before.
Back to Top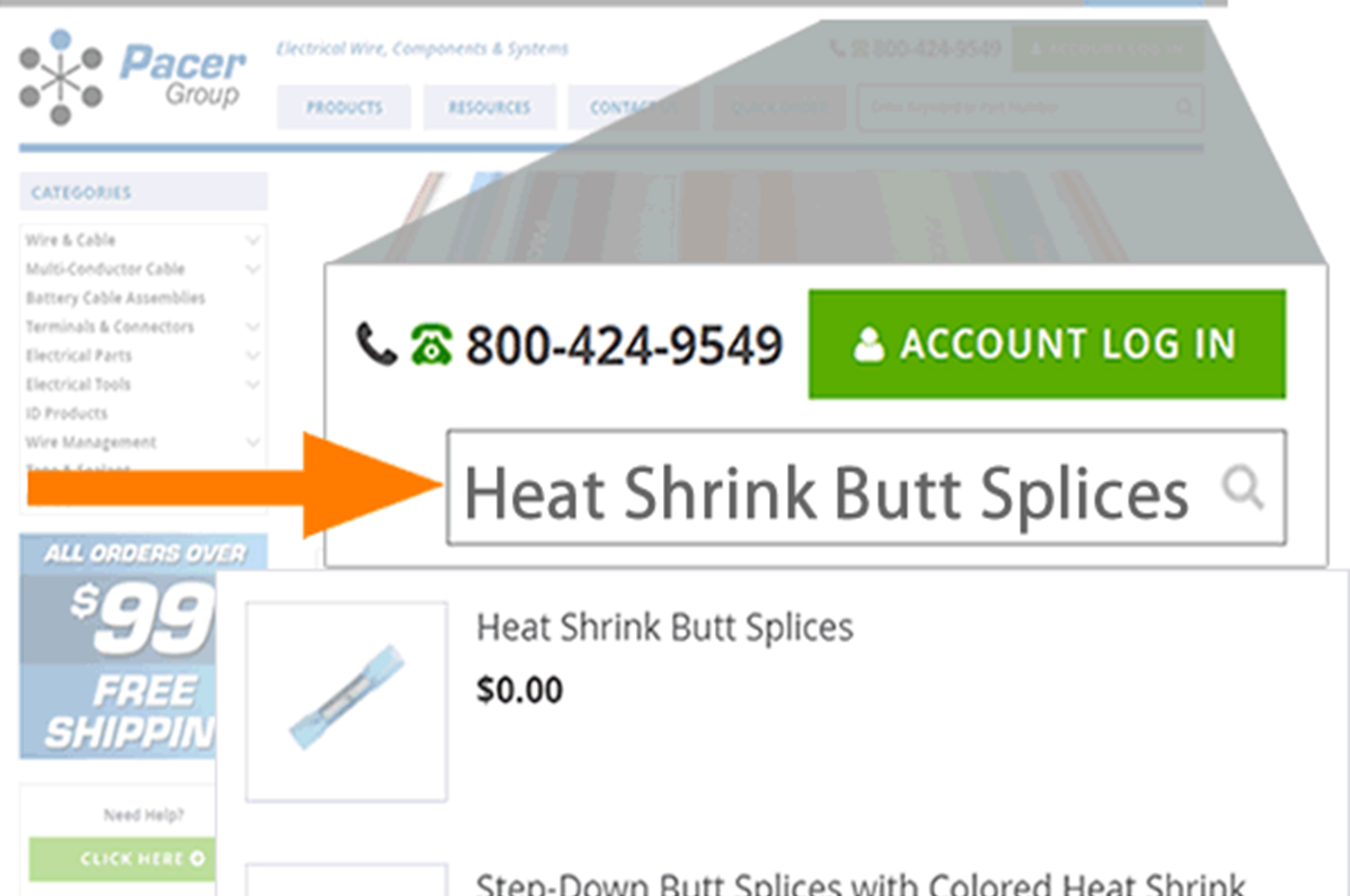 Pacer Group takes every opportunity to make the shopping experience an easy, quick and convenient one. You are probably aware that you can check out as a guest, but let me assure you, that is not the best option. By creating an account and logging in, you have access to benefits that you wouldn't otherwise get. Take a second and check out our guide, you'll be glad you did.
Back to Top
FLORIDA BOATING EQUIPMENT GUIDELINE
Boating safety is something that everyone on board a vessel should be aware of. Having the proper equipment can save lives. Period. Florida has set forth guidelines pertaining to the items needed for a vessel on the water. Regardless of the size of your personal vessel, you will find a checklist here to help you get started. If you're a seasoned pro, a quick refresher may do you some good. We even offer a downloadable sheet that can make finding the items you need even easier.
Back to Top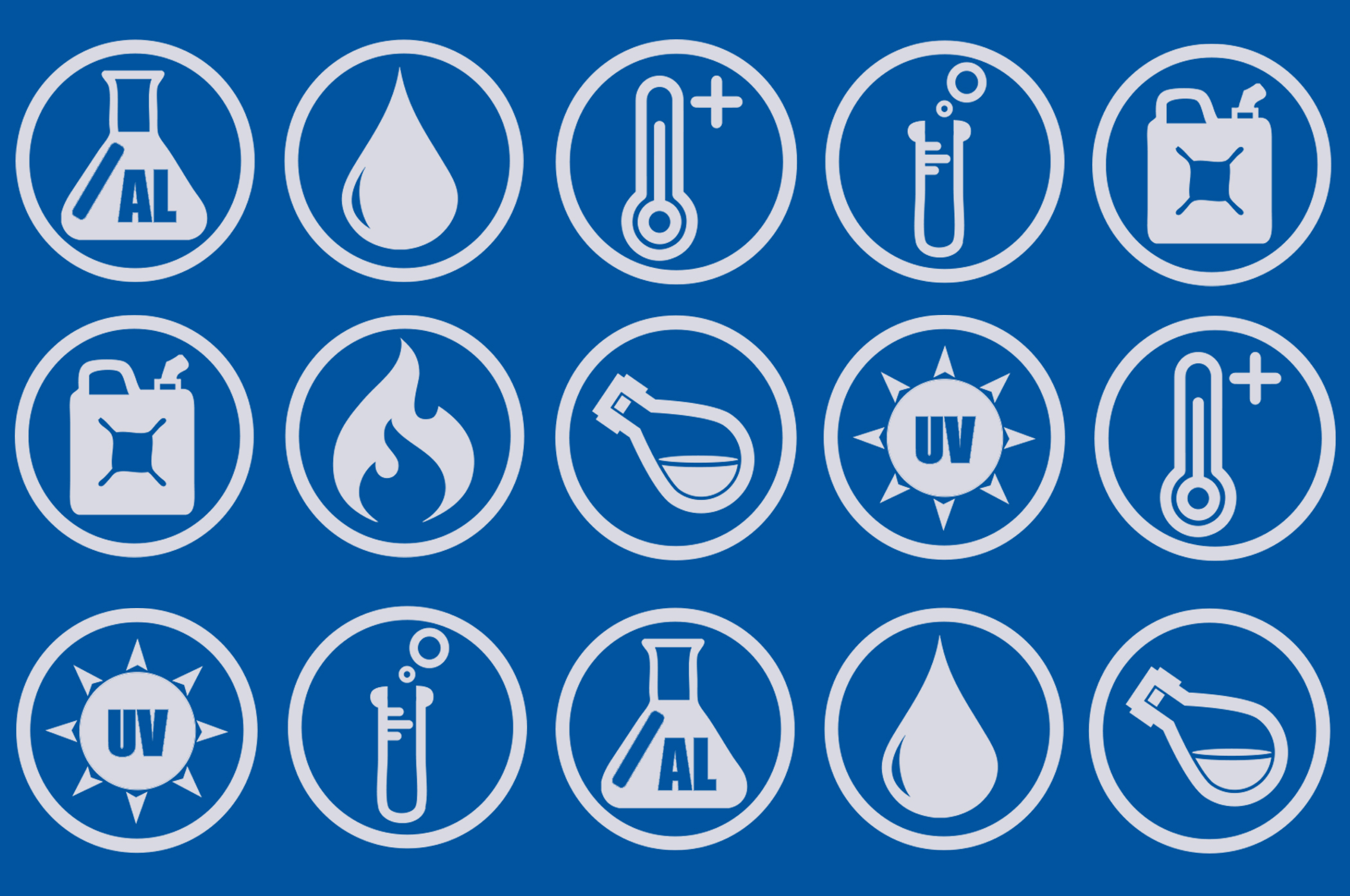 UNDERSTANDING PACER GROUP ICONS
Icons are simple graphics that are used to quick and easily identify the properties of a given product. With only a glance at the icons, you will gain a clearer understanding of a product's features or resistances. We at Pacer Group understand how important your time is and as such, we take every step to make the shopping experience as simple and streamlined as possible. By utilizing these simple icons, you will save time & money.
Back to Top
Having an understanding of wire gauge sizes is essential for any boater to know. This chart, showing stranded wire, will help you to understand the diameter, the ampacity, and the weight of each gauge size of wire and cable that Pacer Group offers. This chart can be extremely beneficial when you need to choose a wire based on the current to be carried.
Back to Top
All wire has a finite resistance to current flow. This resistance causes voltage to develop across the length of a current carrying conductor. The result is that the intended load is robbed of the full potential of it's battery source. The chart to the left is designed to help you determine voltage drop at either 12 volt or 24 volt and can be used to calculate 3% or 10% drop.
Back to Top
HOW TO BUILD A PANEL OR REPAIR AN EXISTING ONE
Whether this is your first panel project or you're a seasoned veteran, this guide will cover some things you may have not considered. We're going to look at some of the more important aspects of a panel project in a step by step process.
Back to Top
Knowing just how big a reel of wire or cable is going to be can help you to plan accordingly. Here you will find a chart explaining the different spool sizes in depth. No more guessing as to where you will put the spools that you order. This way, when your order of wire and cable from Pacer Group arrives, you can know exactly what to expect.
Back to Top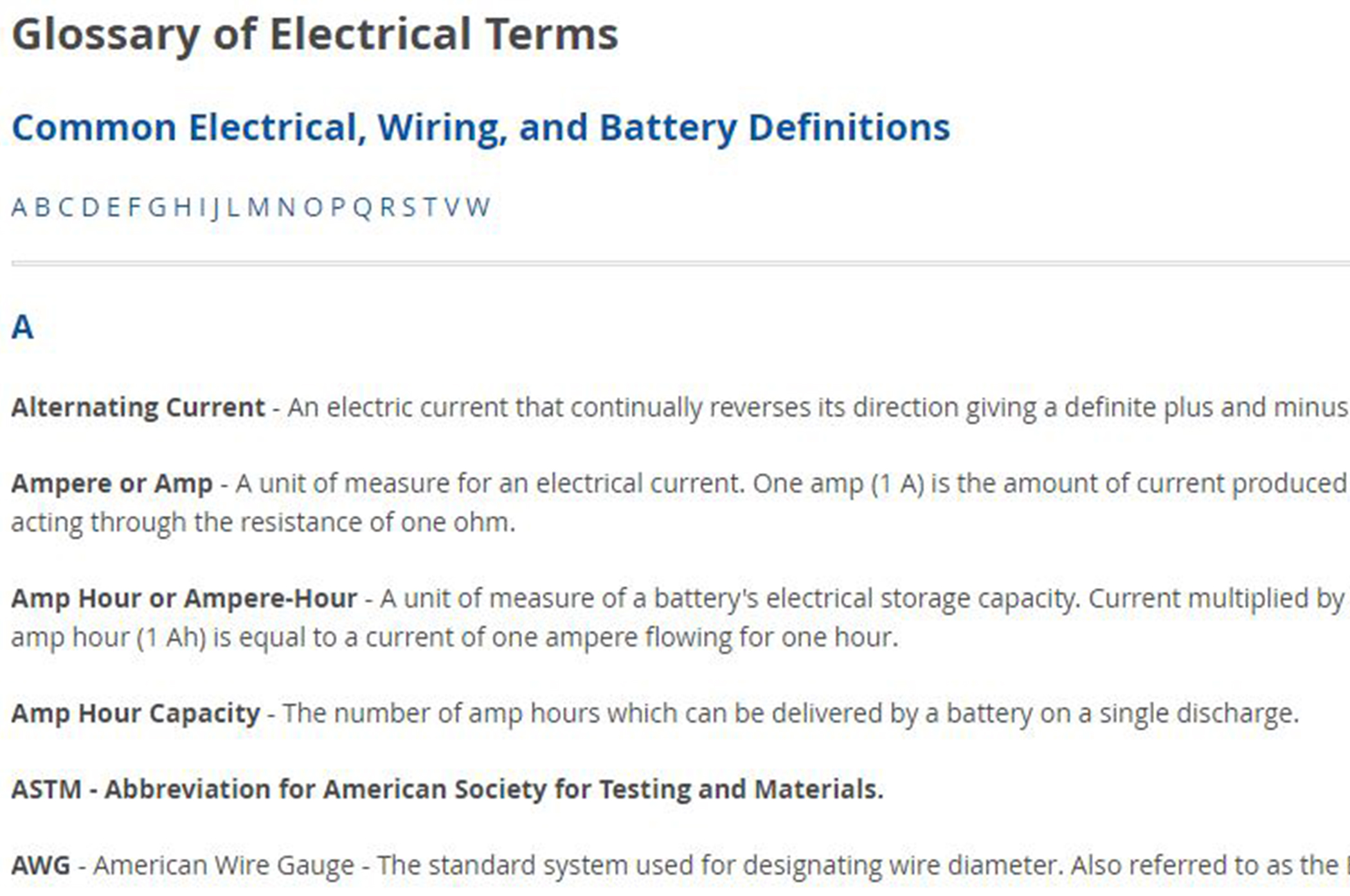 Ever run across an electrical term that you weren't familiar with? Well, worry no more. Here you will find a glossary of some of the most common terms in the marine electrician vernacular. All wrapped up and bundled in one nice, easy to find spot. If you have a suggestion for terms that should be added,
let us know.
Back to Top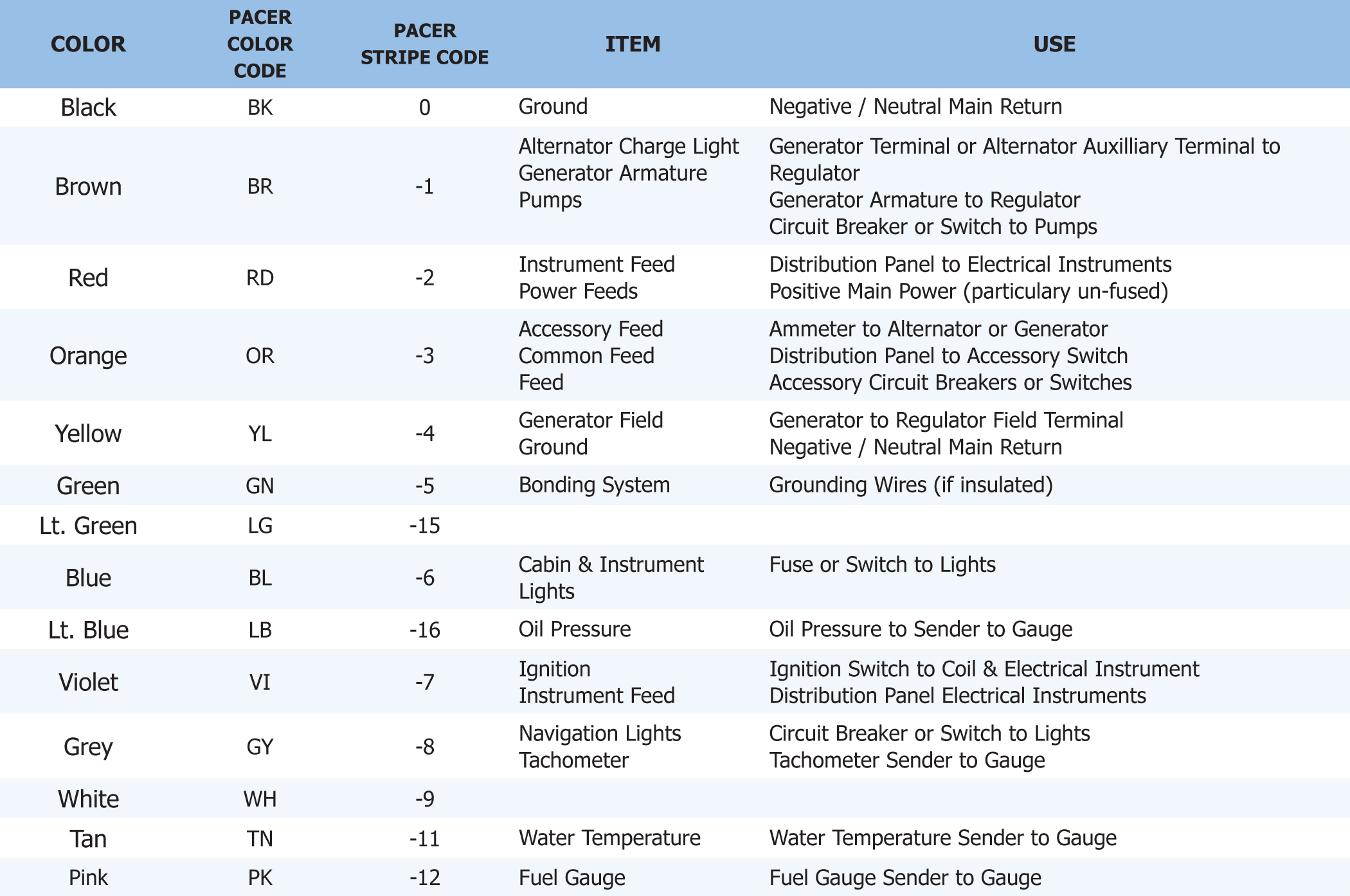 Color codes are used to quickly and easily identify the intent of a wire by simply glancing at the insulation color. Is the wire blue? Well, that's used for cabin and instrument lights. What about tan wire? Tan wire is commonly used for connecting water temperature gauges. See how useful this is? Go on, click the link and learn some more.
Back to Top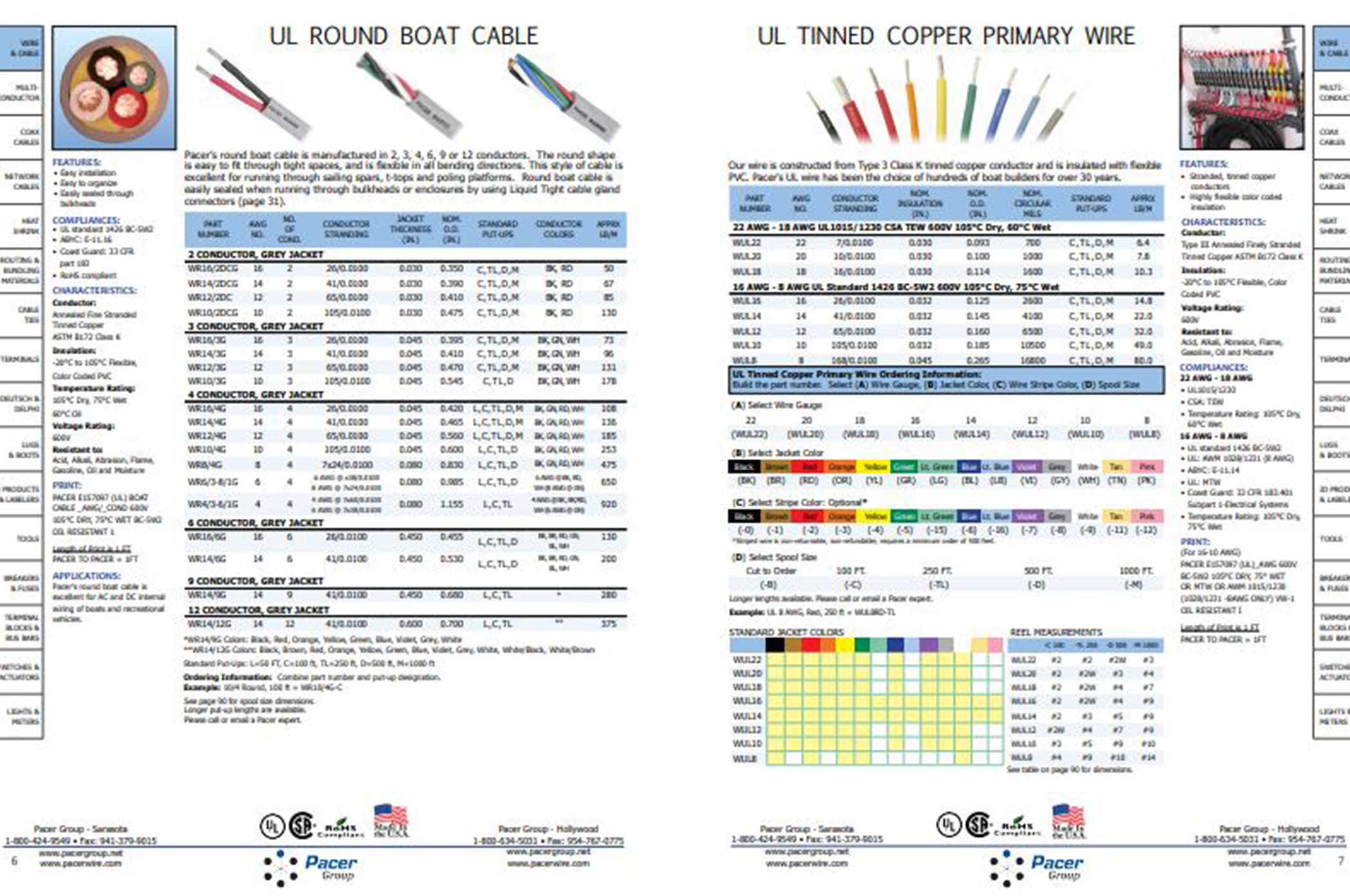 Pacer Group's Catalog has been built from the ground up to be easy to navigate and understand. With deep explanations on each product, technical diagrams, in depth charts breaking down a products characteristics and a technical reference section, this is the book that no boating enthusiast should be without. Here you will find a digital version of the book to make finding that product you're looking for even easier.
Back to Top