As Seen On:
Pacer
Established in 1979, Pacer has built its reputation as an industry leader one customer at a time through excellence in manufacturing, a knowledgeable sales staff, and an unwavering commitment to customer service.
Pacer is a United States based electrical wire and cable manufacturer, as well as electrical components distributor. Pacer has expanded beyond its traditional marine industry focus at its 42,000 square-foot manufacturing, assembly, and warehouse complex in Sarasota, Florida.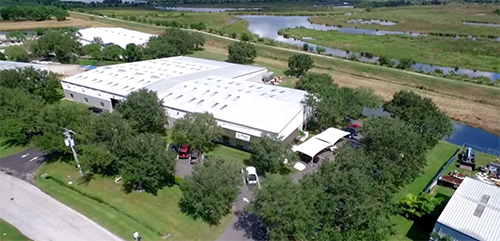 The Parts You Need, When You Need Them - Pacer's Hollywood distribution center is the one-stop shop for the marinas, repair shops, and boating enthusiasts in southeastern Florida. Located in a hub of boating activity, this location is built around convenience, service, and expertise. Whether you're looking for marine wire, battery cable, switch covers, electrical tools, terminals and connectors, rocker switches, electrical parts, I.D. products, heat tools, or even specialty items, Pacer has the parts you're looking for. Stop in our convenient location and get the parts you need. We carry multiple types of crimp connectors and electrical wire connectors

With over 40 years experience we have built the reputation as an industry leader. Turn to the company that the professionals turn to. We have the knowledge, the expertise and the parts to get you back on the water.
Where Can I Buy Pacer Wire, Cable, and Electrical Parts? You can get Pacer's high-quality wire, cable, and electrical parts from a variety of sources. The most obvious choice is for you to use our main site, which you are currently on. This site has a cultivated catalog of over 9,000 products. You can easily find electrical connectors and wire connectors. This site however, is far from the only choice. We offer a large line of high quality products including much of our wire and cable in our Fort Lauderdale location we mentioned above. With Will-Call pickup it is the easiest way to get your products at your convenience. You may also see Pacer products on other retailers shelves. Approved distributors buy from Pacer and resell our products at the best prices possible. We find that many distributors that are not approved overcharge when they resell our products. More than that, they often offer very small stock. There is no way for us to know how they store or transport these products. So we cannot speak on the quality of the product or whether they follow our stringent safety guidelines.
Don't be fooled by imitations, only buy from trusted distributors and make sure that your products have PACER printed on them.
---
The integration of wire and cable manufacturing with distribution has allowed Pacer great flexibility in its ability to serve the concerns of individuals and smaller companies, as well as large volume users.



Wire/Cable Manufacturer

Electrical Component Distribution
Today, Pacer provides these proven capabilities to a wide range of manufacturers who require UL/CSA approved wire. Industries served include makers of batteries, fork lifts, golf carts, industrial equipment, alternative power, appliances, and data storage. We also have a wide range of products that serve automotive, performance racing, truck, RV, and off-road vehicles.
---
Latest Community News
April 8th
Pacer's partners and customers rely on accurate information when it comes to product selection. To help alleviate the stress of finding the right parts for all our customers, Pacer has been working to add technical information for as many products as possible. We have added specifications to help you make the right buying decision. Specifications include things like voltage rating, wire range, screw type, weight, stud size, plating type, impedance, resistances, compliances, and more. We also focused on adding diagrams and dimensions where we could so that our customers and partners can be sure that they are getting the exact part that they need. With a diagram, you can be sure the product is the one you are looking for and the dimensions ensure that the product will fit your specific application.
November 18th
Pacer has experienced unprecedented growth in recent years due to their reliability, expert knowledge, and exceptional service. Most recently, Pacer has expanded to develop an additional manufacturing facility in order to meet the needs of its customers and partners. As Pacer continues to grow, steps like this will be taken in order to ensure that all customers and partners have access to the parts that they need. To learn more about Pacer's growth or its positive economic effect on the surrounding communities, click here.
October 26th
The Marine industry is an ever-growing place. Each year there are new innovations and ideas to see. The Fort Lauderdale International Boat Show is the world's largest in-water boat show. You read that right. The largest in the world. What better place to see the new innovations and ideas that the marine industry has to offer. Aside from the exhibitions and boats, there will be a wide range of activities to attend. From art exhibits to seminars and fishing clinics, there is something for everyone. As a wire and cable manufacturer for some of the world's biggest boat builders, Pacer has their thumb on the pulse of the marine industry. Not only can you see the advancements made in the last year, you can even test and buy some Pacer products on the spot.
September 28th
Last year the world was turned upside down. Social distancing became the norm, and with it, many shows changed formats. The International Boat Builders Expo was one of those shows who instead of being held in person, was held virtually. This year's show will be a return to form. The operators of the expo had announced earlier this year that 2021's expo would be in-person. We, like many in the industry, are excited to get back to interacting with customers, vendors, and manufacturers face to face. Every attending company brings something different to the table creating a robust offering that will help to give a big-picture-view of the marine industry. This event is about networking and growth making it the perfect time to stop by and see what Pacer has been up to.
August 2nd
If the last year has taught us anything it is that the future is uncertain however, there is reason to be optimistic. All signs are showing a slow but steady recovery so we can expect some alleviation. Many experts suggest that the global shipping shortage could last well into 2022 with some speculating that the issue will not be resolved until beyond that point. The bottom line is that regardless of the time it takes for the global supply chains to return to normal, Pacer will be working endlessly to get the materials and products needed to keep our partners and customers going and our production lines running. We remain steadfast in our commitment to being your electrical solutions provider. Click here.
May 4th
During these trying times, Pacer has done everything possible to help. Always being active in the community has been an important part of our corporate philosophy. We have used our resources to convert part of one of our facilities into a mask production line. We currently produce between 400 - 500 masks per week that we distribute, at no cost, to our staff, their family, and the community as a whole. Take a look at some of the images below to see just a small sample of the work we have done. To learn more about our Covid related community efforts, Click here.