Posted by Pacer Group on 23rd Jun 2020

A high-quality wire is defined by several characteristics such as conductor material, insulation durability, number and types of resistances, and longevity. Does all wire meet these basic criteria? Of course not. Much of the wire you will find meets the barest of standards with no emphasis placed on safety, durability, or longevity. That may be okay for some people, but that is not how we do things.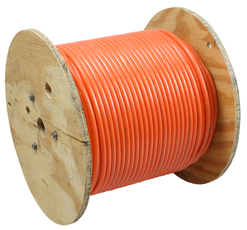 Pacer Group has been in the wire manufacturing business for more than forty years and we have used that time to continually refine and improve our wire manufacturing processes. We do not settle for "good enough" or "meets the standards". We aim to create a wire that exceeds not only the standards set forth but expectations as well. With a focus on quality, safety, and durability in the toughest environments, Pacer Group has crafted some of the highest quality wire available. Take a look at this picture of 8 gauge marine wire on a spool. This is a great example of the level of quality you get from Pacer Group. This, and all our wire, is made from Type 3 Class K finely stranded tinned copper to offer the highest level of corrosion resistance, flexibility, and conductivity. What about the insulation? Our wire is insulated with a proprietary mixture we have developed over decades of refinement. It is built to be extremely flexible, durable, and high resistant to the marine environment, but more on that later. Whether you purchase our 8 gauge marine wire, 16 gauge marine wire, or anything in-between, you know you're getting some of the best marine wire available.
"With a focus on quality, safety, and durability in the toughest environments, Pacer Group has crafted some of the highest quality wire available."
What separates wire from cable?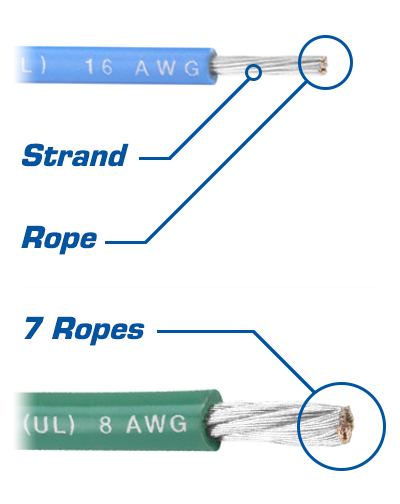 The simple answer is that cable is thicker than wire but it is a bit more complicated than that. The terms wire and cable can be somewhat ambiguous. So, to keep it simple, we will be referring to flexible strands of metal that transmit electricity. You have this strand of metal that can vary in its overall diameter. The larger the diameter, the more electricity that wire can carry. The issue arises when you start to get too large in diameter. When a wire becomes too thick, you begin to lose flexibility and durability as it will be more easily damaged by stress. To work around this problem, several smaller wires are bundled together. We call these bundles "ropes".
A small wire such as 30 gauge marine wire would be made up of a single strand of conductive metal. If we looked at 16 gauge marine wire, we would see that it is made up of 24 strands of that 30 gauge marine wire. These strands together would be the "rope" we mentioned earlier. Now suppose you want to look at 8 gauge marine wire. That could be composed of 7 ropes.
Basically, wire is a single strand of conductive metal or a single rope. When you get into multiple ropes you are starting to deal with cable. The only exception to this rule is 8 gauge marine wire, which although having multiple ropes is still considered wire due to its small overall diameter. So now that we have established the difference between wire and cable, let's look at why Pacer Group is known throughout the world.
Why is Pacer Group recognized around the globe?

Pacer Group is recognized around the globe for high-quality wire, cable, electrical components, and electrical solutions. Whereas many companies appear and disappear in a short span, Pacer Group has spent over four decades building the reputation of a company to be trusted, not only for our products but for our solutions as well. Whether they want 16 gauge wire, cable ties, battery cable assemblies, or anything else marine-related, they know that they can find it with Pacer Group. This is why companies all across the globe turn to us for their wire and cable needs.
Why does the rest of the world buy Pacer Group wire?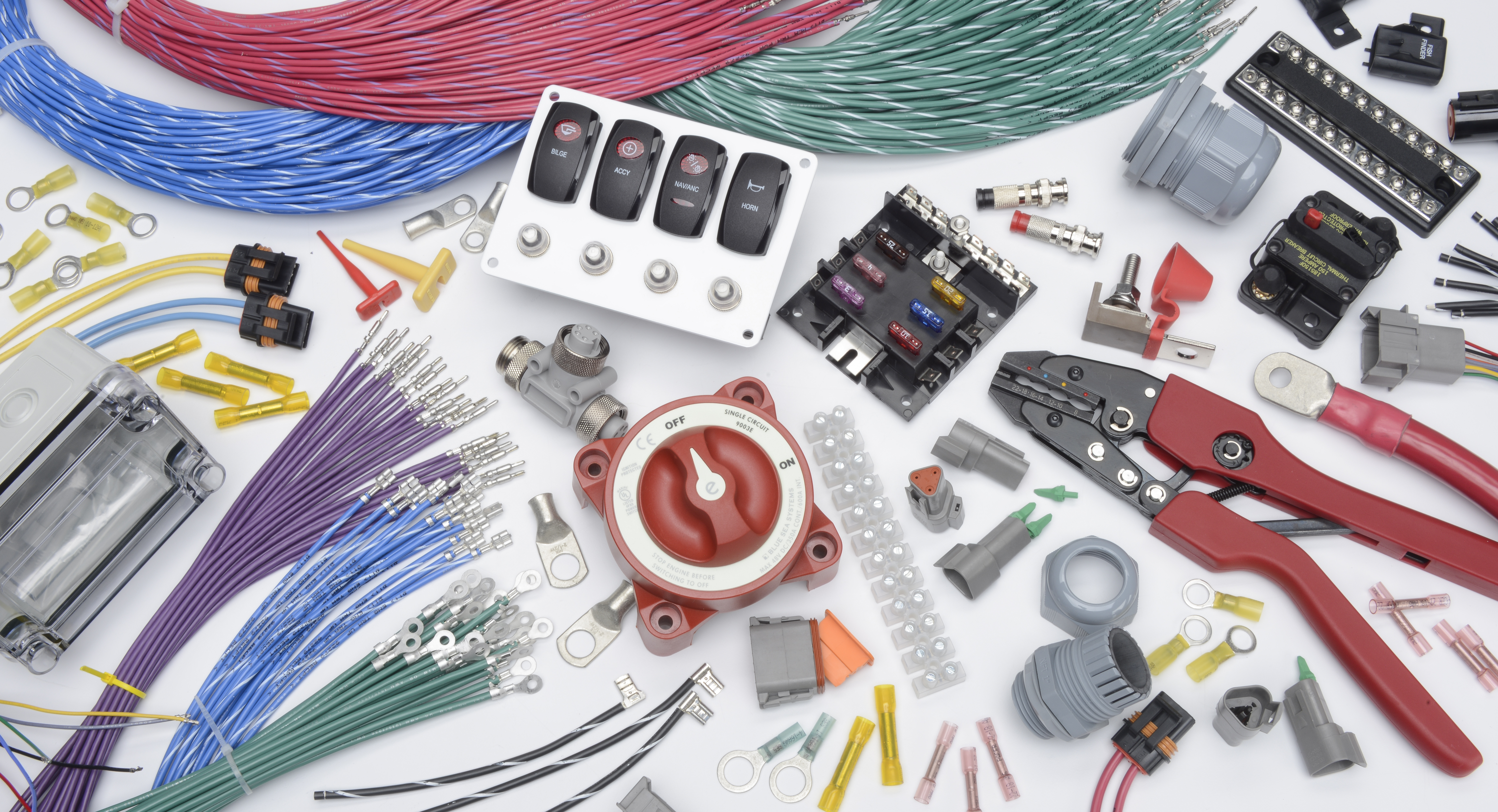 Pacer Group meets the high standards of the Underwriters Laboratory (UL), the United States Coast Guard (U.S.C.G.), the American Boat and Yacht Council (ABYC), the Canadian Standards Association (CSA) as well as many others. With these high standards in place, manufacturers around the globe know that if they plan to sell in the U.S., they need to use wire that is compliant with U.S. standards. Pacer Group is known as a one-stop-shop for boat builders and enthusiasts alike. In this way, many companies around the world turn to Pacer Group for their electrical solution needs. They do this as they can get all the parts they need whether it be electrical tools, I.D. products, terminals, sealants, tapes, wire, or anything else they need in one convenient location.
What resistances does Pacer Group wire carry?
Pacer Group marine wire has been designed and manufactured to be resistant to the toughest marine conditions out there. Conditions that include flame, oil, gasoline, moisture, abrasion, alkali, and acid. What would be the point of manufacturing marine wire if it cannot excel in the marine environment? Our customers and their families count on our wire to perform safely and to last. It is this trust in us that pushed us to take every step possible to make our wire as tough as we could. Pacer Group builds wire and cable to get you home safely.

Moisture


Acid


Abrasion


Alkali


Oil


Gasoline


Flame
What industries use Pacer Group wire?
Pacer Group wire is found in industries such as marine, power management, automotive, solar, robotics, industrial equipment, recreational vehicles, and more. From our 8 gauge wire to our 16 gauge wire, and more are used all across the world each and every day in a variety of applications. When it's trusted by some of the biggest names in the world, you know it's quality.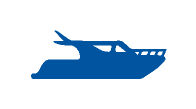 Marine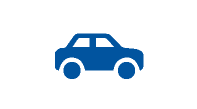 Automotive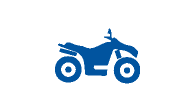 Recreational Vehicle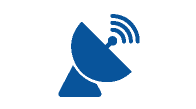 Communication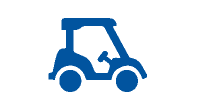 Golf Cart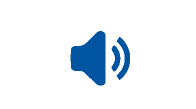 Audio

Solar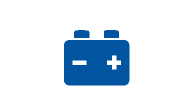 Power Management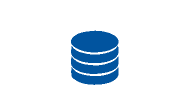 Database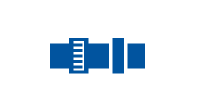 Industrial Equipment